---
2017 Spring Cookout- Sat Apr 29th 11am to 3pm
Click Here to signup to bring food.
---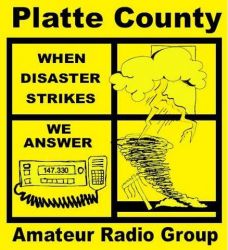 ---
Social Media
---
Signup for Group
Communication Notifications
---
Group Reminders: Meeting/
Event Notifications
Member or Friend?
Please choose Friend if unsure.
We will update records periodically.
---
We are a group of radio amateurs in and near
Platte County, MO who get together on a regular basis
for the purpose of fellowship, socially redeeming
activities, emergency communications training,
and just plain old fun.
---
Club Meeting:
Last Saturday of Month 9:00 am
Location: Northland Regional Ambulance District
1000 Platte Falls Road
Platte City, MO 64079
** Talk-in is on the 147.33 + Repeater
Club Voice NET:
2m Voice Net: Tuesdays 7:30 pm
NET Callsign: NR0AD
Operates on 147.33 + WA0QFJ Repeater
---
FSQCALL fldigi Learning Net:
Sundays 8:00 pm (Northland ARES)
Operates on 147.33 + Repeater
---
---
ARRL Amateur News

April 24 th 2058 UTC

The 8th World Radiosport Team Championship, WRTC 2018 in Germany next July, will offer seats on three teams for contesters who are 25 or younger at the time of the event. Prospective participants need only to apply. The international event July 12-16, 201…

April 24 th 1937 UTC

NOAA's Space Weather Prediction Center (SWPC) says a minor (G1) geomagnetic storm watch remains in effect for April 24-26, due to the continued influence of a large, recurrent, negative-polarity coronal hole high-speed stream (CH HSS). A coronal hole is a…

April 21 st 1724 UTC

This just in from the Australian Space Forecast Centre at 2349 UTC on April 20, 2017:Recurrent coronal hole is expected to be geoeffective.INCREASED GEOMAGNETIC ACTIVITY EXPECTEDDUE TO CORONAL HOLE HIGH SPEED WIND STREAMFOR 23 APRIL 2017GEOMAGNETIC ACTIVI…

---
Current Platte County Weather
Winds are South at 10.4 MPH (9 KT). The pressure is 998.2 mb and the humidity is 60%. The wind chill is 60. Last Updated on Apr 25 2017, 5:53 am CDT.
---
Training Resources
---
HF Radio Propagation

Solar Flux: 80 | Ap: 20 | Kp 3

No space weather storms were observed for the past 24 hours.

Space weather for the next 24 hours is predicted to be minor. Geomagnetic storms reaching the G1 level are likely.