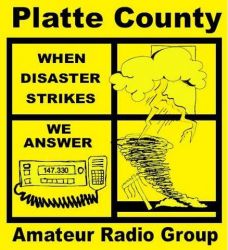 ---
Social Media
---
HF Band Conditions
fldigi/flmsg/flamp
FSQCall Program V0.24.6 older US Edition
We are a group of radio amateurs in and near
Platte County, MO who get together on a regular basis
for the purpose of fellowship, socially redeeming
activities, emergency communications training,
and just plain old fun.
---
Club Meeting:
Last Saturday of Month 9:00 am
NOTE: December 2020 will be Dec 19th
Location: Zoom Meeting starting Dec 2020
For information: Contact Steve KC0YSY for information or Groups.io
In Person Suspended: Northland Regional Ambulance District

1000 Platte Falls Road
Platte City, MO 64079
** Talk-in is on the 147.33 + Repeater
Tone 151.4
Club Voice NET:
2m Voice Net: Tuesdays 7:30 pm
NET Callsign: NR0AD
Operates on 147.33 + WA0QFJ Repeater
Tone 151.4
---
FSQCALL fldigi Learning Net:
Sundays 8:00 pm (Northland ARES)
Operates on 147.33 + Repeater
Tone 151.4
---
---
ARRL Amateur News

November 23 rd 1949 UTC

"The Gathering" will be the theme for the 2021 Dayton Hamvention®. Hamvention General Chair Rick Allnutt, WS8G, said the theme reflects what has been missing from our lives most of this year."We have spent the last 6 months being bound to our houses and s…

November 23 rd 1942 UTC

The deadline to apply for US Department of State Foreign Service Information Management Technical Specialists-Radio (IMTS-R) positions is December 1, 2020.Foreign Service IMTS-Rs design, install, and maintain radio and telecommunications systems. They pro…

November 22 nd 2028 UTC

The ARRL Dakota Division will have a new Director, and the Great Lakes and Midwest Divisions will have new Vice Directors on January 1. The results of four contested elections for Director and Vice Director in three ARRL Divisions were announced on Novemb…

The 147.330+ repeater is the official Skywarn repeater for
Platte County and back up to the Northland ARES repeater
---
---
Training Resources
---
HF Radio Propagation

Oops, it looks like you've entered an invalid feed address!