---


DMR Presentation
Thursday August 17 6 to 9pm
National Weather Service (NWS) Central Region Headquarters,
 7220 NW 101st Terrace, Kansas City, MO.

Chuck Kraly (K0XM) and Tom Wheeler (N0GSG) will be the primary speakers.

Must have photo ID for entry
See News-Events tab for more info
---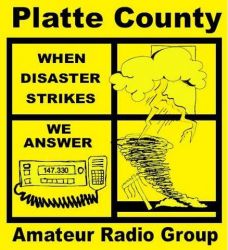 ---
Social Media
---
Signup for Group
Communication Notifications
---
Group Reminders: Meeting/
Event Notifications
Member or Friend?
Please choose Friend if unsure.
We will update records periodically.
---
We are a group of radio amateurs in and near
Platte County, MO who get together on a regular basis
for the purpose of fellowship, socially redeeming
activities, emergency communications training,
and just plain old fun.
---
Club Meeting:
Last Saturday of Month 9:00 am
Location: Northland Regional Ambulance District
1000 Platte Falls Road
Platte City, MO 64079
** Talk-in is on the 147.33 + Repeater
Club Voice NET:
2m Voice Net: Tuesdays 7:30 pm
NET Callsign: NR0AD
Operates on 147.33 + WA0QFJ Repeater
---
FSQCALL fldigi Learning Net:
Sundays 8:00 pm (Northland ARES)
Operates on 147.33 + Repeater
---
---
ARRL Amateur News

August 18 th 1602 UTC

Internet access to ARRL Headquarters in Newington, Connecticut, will be disrupted for up to 6 hours on Tuesday, August 22 (0400-1000 UTC). Affected systems include, but are not necessarily limited to e-mail, bulk mail, reflectors, Logbook of The World (Lo…

August 18 th 1554 UTC

Several readers pointed out those averages for the various indicators we track were all wrong last week. Average daily sunspot number was 12.1 instead of 5, although the rest of the text in the bulletin was correct. Likewise, average daily solar flux was …

August 18 th 1429 UTC

ARRL Audio News is proud to announce the debut of our Extra Edition service. Extra Editions are longer, uninterrupted audio segments devoted to particular topics. They will be posted on the ARRL Audio News web page. Just go to the page and then scroll dow…

---
Current Platte County Weather
Winds are Southwest at 6.9 MPH (6 KT). The pressure is 1011.4 mb and the humidity is 51%. The heat index is 90. Last Updated on Aug 18 2017, 4:53 pm CDT.
---
Training Resources
---
HF Radio Propagation

Solar Flux: 80 | Ap: 25 | Kp 5

Space weather for the past 24 hours has been minor. Geomagnetic storms reaching the G1 level occurred.

Space weather for the next 24 hours is predicted to be minor. Geomagnetic storms reaching the G1 level are expected.