Temporary Meeting Location Change for May 2019 Meeting
Smithville Fire Station
341 Park Dr Smithville MO
---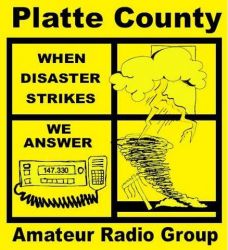 ---
Social Media
---
HF Band Conditions
fldigi/flmsg/flamp
FSQCall Program V0.24.6 older US Edition
We are a group of radio amateurs in and near
Platte County, MO who get together on a regular basis
for the purpose of fellowship, socially redeeming
activities, emergency communications training,
and just plain old fun.
---
Club Meeting:
Last Saturday of Month 9:00 am
Location: Northland Regional Ambulance District
1000 Platte Falls Road
Platte City, MO 64079
** Talk-in is on the 147.33 + Repeater
Club Voice NET:
2m Voice Net: Tuesdays 7:30 pm
NET Callsign: NR0AD
Operates on 147.33 + WA0QFJ Repeater
NOTE: On or After March 1st, 2019 the PL 151.4 we will be turning on full-time.

---
FSQCALL fldigi Learning Net:
Sundays 8:00 pm (Northland ARES)
Operates on 147.33 + Repeater
---
---
ARRL Amateur News

May 21 st 1432 UTC

Fred Cady, KE7X, of Bozeman, Montana, died on May 16. An ARRL Life Member, he turned 77 earlier this month. Cady was a professor emeritus of electrical and computer engineering at Montana State University. He coauthored The Successful Ham Radio Operator's…

May 21 st 1235 UTC

Working Group 1 of ITU-R Working Party 5A completed work on the sharing and compatibility studies required for WRC-19 Agenda Item 1.1 during the meeting of WP 5A that concluded on May 9. The report, which began as a nine-page document in 2016, grew to 158…

The 147.330+ repeater is the official Skywarn repeater for
Platte County and back up to the Northland ARES repeater
---
---
Training Resources
---
HF Radio Propagation

Solar Flux: 68 | Ap: 4 | Kp 1

No space weather storms were observed for the past 24 hours.

No space weather storms are predicted for the next 24 hours.