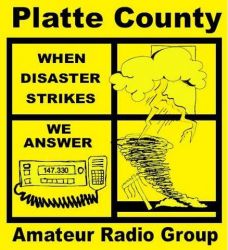 ---
Social Media
---
HF Band Conditions
fldigi/flmsg/flamp
FSQCall Program V0.24.6 older US Edition
We are a group of radio amateurs in and near
Platte County, MO who get together on a regular basis
for the purpose of fellowship, socially redeeming
activities, emergency communications training,
and just plain old fun.
---
Club Meeting:
Last Saturday of Month 9:00 am
Location: Northland Regional Ambulance District
1000 Platte Falls Road
Platte City, MO 64079
** Talk-in is on the 147.33 + Repeater
Club Voice NET:
2m Voice Net: Tuesdays 7:30 pm
NET Callsign: NR0AD
Operates on 147.33 + WA0QFJ Repeater
---
FSQCALL fldigi Learning Net:
Sundays 8:00 pm (Northland ARES)
Operates on 147.33 + Repeater
---
---
ARRL Amateur News

August 20 th 1915 UTC

Radio amateurs in at least three western Indian states along the Arabian Sea coast are pitching in to support communication for rescue and relief operations following heavy rainfall and flooding. In Kerala, Shyam Kumar, VU2JLE, told The Hindu newspaper th…

August 20 th 1844 UTC

Two races for the office of ARRL Director and one contest for Vice Director are set for this fall. In the Southeastern Division, incumbent Director Greg Sarratt, W4OZK, faces a challenge from Mickey Baker, N4MB. A three-way race is set for the office of S…

The 147.330+ repeater is the official Skywarn repeater for
Platte County and back up to the Northland ARES repeater
---
---
Training Resources
---
HF Radio Propagation

Solar Flux: 67 | Ap: 4 | Kp 1

No space weather storms were observed for the past 24 hours.

No space weather storms are predicted for the next 24 hours.