---
SKYWarn Recognition Day
December 7 7 am to 6 pm
Relocated to Smithville Fire Station #2

341 Park Drive Smithville, MO
Construction in progress at NWS CRH


---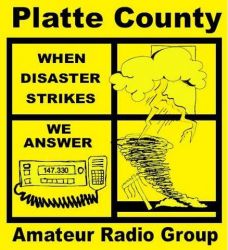 ---
Social Media
---
HF Band Conditions
fldigi/flmsg/flamp
FSQCall Program V0.24.6 older US Edition
We are a group of radio amateurs in and near
Platte County, MO who get together on a regular basis
for the purpose of fellowship, socially redeeming
activities, emergency communications training,
and just plain old fun.
---
Club Meeting:
Last Saturday of Month 9:00 am
Location: Northland Regional Ambulance District
1000 Platte Falls Road
Platte City, MO 64079
** Talk-in is on the 147.33 + Repeater
Club Voice NET:
2m Voice Net: Tuesdays 7:30 pm
NET Callsign: NR0AD
Operates on 147.33 + WA0QFJ Repeater
---
FSQCALL fldigi Learning Net:
Sundays 8:00 pm (Northland ARES)
Operates on 147.33 + Repeater
---
---
ARRL Amateur News

December 6 th 1931 UTC

Listen to the new episode of ARRL Audio News on your iOS or Android podcast app, or online at http://www.blubrry.com/arrlaudionews/. Audio News is also retransmitted on a number of FM repeaters. Click here and then scroll down to see the list. 

The 147.330+ repeater is the official Skywarn repeater for
Platte County and back up to the Northland ARES repeater
---
---
Training Resources
---
HF Radio Propagation

Solar Flux: 72 | Ap: 3 | Kp 0

No space weather storms were observed for the past 24 hours.

No space weather storms are predicted for the next 24 hours.