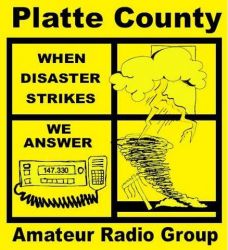 ---
Social Media
---
HF Band Conditions
fldigi/flmsg/flamp
FSQCall Program V0.24.6 older US Edition
2022 PCARG Annual Membership Picnic
April 30th 11 am
Click link below to let us know that you are coming.
https://www.signupgenius.com/go/70A0D48A8A72DA4F94-pcarg2
Look forward to seeing everyone.
---
We are a group of radio amateurs in and near
Platte County, MO who get together on a regular basis
for the purpose of fellowship, socially redeeming
activities, emergency communications training,
and just plain old fun.
---
Club Voice NET:
2m Voice Net: Tuesdays 7:30 pm
NET Callsign: NR0AD
Operates on 147.33 + WA0QFJ Repeater
Tone 151.4
Club Meeting:
Last Saturday of Month 9:00 am - 11:00 am
Location: (In Person) Northland Regional Ambulance District
1000 Platte Falls Road Platte City, MO 64079
** Talk-in is on the 147.33 + Repeater Tone 151.4
Location: (Zoom)
Contact: Steve KC0YSY or Groups.io for link
2022 Meeting Dates
Month
Date
Program
Testing Time

January

Jan 29

Election - Elmer Helping

7:30 am

February

Feb 26

7:30 am

March

Mar 19

April

Apr 30
Picnic Time Change 11am
9:00 am
May
May 28
June
Jun 25

FIELD DAY WEEKEND

Friday 5pm Setup
Sat 10:00 Setup finalize
Sat Start 1pm
Sat Dinner 5:30 - 6:00

9:00 am
July
Jul 23
August
Aug 27
7:30 am
September
Sept 24
October
Oct 29
7:30 am
November
Nov 26
7:30 am
December
Dec 31
Breakfast Time Change 8am
---
FSQCALL fldigi Learning Net:
Sundays 8:00 pm (Northland ARES)
Operates on 147.33 + Repeater
Tone 151.4
---
---
ARRL Amateur News

May 28 th 0229 UTC

 Although our Sun is currently peppered with spots, average daily sunspot number slipped from 134.1 the previous week to 124.7 during this reporting week, May 19 to 25.Average daily solar flux was actually a tiny bit higher, rising hardly at all from 157.…

May 27 th 1344 UTC

ARRL  The National Association for Amateur Radio® honors and remembers the ultimate sacrifice made by those who served in the U.S. armed forces. ARRL Headquarters will be closed Monday, May 30, 2022, in observance of Memorial Day.There will be no W1AW cod…

May 27 th 0049 UTC

Freemasons of the Sequin-Level Lodge No. 140, located in Newington, Connecticut, recognized ARRL with a presentation on Thursday, April 7, 2022. The special recognition was organized and led by the Lodge's Worshipful Master, Jon Faasen, AA1EZ. Faasen is a…

The 147.330+ repeater is the official Skywarn repeater for
Platte County and back up to the Northland ARES repeater
---
---
Training Resources