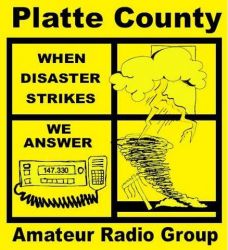 ---
Social Media
---
HF Band Conditions
fldigi/flmsg/flamp
FSQCall Program V0.24.6 older US Edition
We are a group of radio amateurs in and near
Platte County, MO who get together on a regular basis
for the purpose of fellowship, socially redeeming
activities, emergency communications training,
and just plain old fun.
---
Club Meeting:
Last Saturday of Month 9:00 am
Location: Northland Regional Ambulance District
1000 Platte Falls Road
Platte City, MO 64079
** Talk-in is on the 147.33 + Repeater
Tone 151.4
Club Voice NET:
2m Voice Net: Tuesdays 7:30 pm
NET Callsign: NR0AD
Operates on 147.33 + WA0QFJ Repeater
Tone 151.4
---
FSQCALL fldigi Learning Net:
Sundays 8:00 pm (Northland ARES)
Operates on 147.33 + Repeater
Tone 151.4
---
---
ARRL Amateur News

October 23 rd 1131 UTC

The K7RA Solar UpdateTad Cook, K7RA, Seattle, reports:Sunspots appeared every day of the past reporting week. Compared to the previous 7 days, the average daily sunspot number increased from 13.1 to 15. Average daily solar flux rose from 73.1 to 74.5. Geo…

October 22 nd 2329 UTC

ARRL has issued guidelines for multioperator stations competing in the ARRL DX Contest (CW and phone). With the global pandemic continuing to impose restrictions on social gatherings, multioperator contest stations may not be able to operate normally whil…

The 147.330+ repeater is the official Skywarn repeater for
Platte County and back up to the Northland ARES repeater
---
---
Training Resources
---
HF Radio Propagation

Solar Flux: 75 | Ap: 6 | Kp 3

No space weather storms were observed for the past 24 hours.

Space weather for the next 24 hours is predicted to be minor. Geomagnetic storms reaching the G1 level are likely.