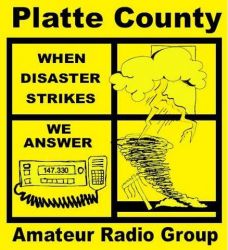 ---
Social Media
---
HF Band Conditions
fldigi/flmsg/flamp
FSQCall Program V0.24.6 older US Edition
2022 PCARG Field Day Dinner
Click link below to let us know that you are coming.
Look forward to seeing everyone.
---
We are a group of radio amateurs in and near
Platte County, MO who get together on a regular basis
for the purpose of fellowship, socially redeeming
activities, emergency communications training,
and just plain old fun.
---
Club Voice NET:
2m Voice Net: Tuesdays 7:30 pm
NET Callsign: NR0AD
Operates on 147.33 + WA0QFJ Repeater
Tone 151.4
Club Meeting:
Last Saturday of Month 9:00 am - 11:00 am
Location: (In Person) Northland Regional Ambulance District
1000 Platte Falls Road Platte City, MO 64079
** Talk-in is on the 147.33 + Repeater Tone 151.4
Location: (Zoom)
Contact: Steve KC0YSY or Groups.io for link
2023 Meeting Dates
Month
Date
Program
Testing Time
January
Jan 28
Meeting 9-10 | KC Heart 10-12


February
Feb 25
7:30 am
March
Mar 18
April

Apr 29
Picnic Time Change 11am
9:30am
May
May 27
June
Jun 23

FIELD DAY WEEKEND

Friday 5pm Setup
Sat 10:00 Setup finalize
Sat Start 1pm
Sat Dinner 5:30 - 6:00

9:30 am
July
Jul 29
August
Aug 26
7:30 am
September
Sept 30
October
Oct 28
7:30 am
November
Nov 25
7:30 am
December
Dec 30
Breakfast Time Change 8am
---
FSQCALL fldigi Learning Net:
Sundays 8:00 pm (Northland ARES)
Operates on 147.33 + Repeater
Tone 151.4
---
---
ARRL Amateur News

March 31 st 1940 UTC

Amateur radio and the work of ARRL Amateur Radio Emergency Service® (ARES®) will again be represented at the 2023 National Hurricane Conference, which will be held this year in New Orleans, Louisiana (http://www.hurricanemeeting.com). ARRL Director of Eme…

March 31 st 1538 UTC

ARRL  The National Association for Amateur Radio® is pleased to welcome Sierra Harrop, W5DX, to its headquarters staff as Public Relations and Outreach Manager. Harrop brings 20 years of experience as a multi-award-winning television storyteller, producer…

March 31 st 1531 UTC

Parks on the Air® (POTA) sites that honor African American heritage are the focus of a casual operating event organized by the OMIK Amateur Radio Association, Inc (OMIK). The OMIK POTA Challenge 2023 will run from April 1 to December 31.OMIK was founded i…

The 147.330+ repeater is the official Skywarn repeater for
Platte County and back up to the Northland ARES repeater
---
---
Training Resources