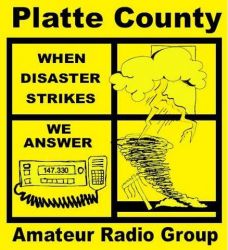 ---
Social Media
---
HF Band Conditions
fldigi/flmsg/flamp
FSQCall Program V0.24.6 older US Edition
We are a group of radio amateurs in and near
Platte County, MO who get together on a regular basis
for the purpose of fellowship, socially redeeming
activities, emergency communications training,
and just plain old fun.
---
Club Meeting:
Last Saturday of Month 9:00 am
Location: Northland Regional Ambulance District
1000 Platte Falls Road
Platte City, MO 64079
** Talk-in is on the 147.33 + Repeater
Club Voice NET:
2m Voice Net: Tuesdays 7:30 pm
NET Callsign: NR0AD
Operates on 147.33 + WA0QFJ Repeater
---
FSQCALL fldigi Learning Net:
Sundays 8:00 pm (Northland ARES)
Operates on 147.33 + Repeater
---
---
ARRL Amateur News

October 21 st 2120 UTC

Pitcairn Island DXpedition leader Glen Johnson, W0GJ, reports the VP6R team arrived at the South Pacific island on October 17, after the m/v Braveheart anchored offshore. After clearing customs and immigration, the team was transported to the home of Andy…

October 21 st 2118 UTC

A transmission from the vintage Alexanderson alternator in Grimeton, Sweden, will complement activities marking United Nations Day on October 24. Transmitter startup for the 17.2 kHz transmission will take place at around 1630 UTC, with a peace message tr…

The 147.330+ repeater is the official Skywarn repeater for
Platte County and back up to the Northland ARES repeater
---
---
Training Resources
---
HF Radio Propagation

Solar Flux: 64 | Ap: 5 | Kp 1

No space weather storms were observed for the past 24 hours.

No space weather storms are predicted for the next 24 hours.