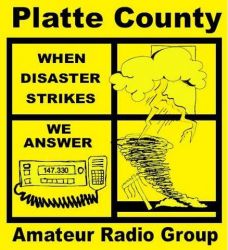 ---
Social Media
---
Signup for Group
Communication Notifications
---
Group Reminders: Meeting/
Event Notifications
Member or Friend?
Please choose Friend if unsure.
We will update records periodically.
---
We are a group of radio amateurs in and near
Platte County, MO who get together on a regular basis
for the purpose of fellowship, socially redeeming
activities, emergency communications training,
and just plain old fun.
---
Club Meeting:
Last Saturday of Month 9:00 am
Location: Northland Regional Ambulance District
1000 Platte Falls Road
Platte City, MO 64079
** Talk-in is on the 147.33 + Repeater
Club Voice NET:
2m Voice Net: Tuesdays 7:30 pm
NET Callsign: NR0AD
Operates on 147.33 + WA0QFJ Repeater
---
FSQCALL fldigi Learning Net:
Sundays 8:00 pm (Northland ARES)
Operates on 147.33 + Repeater
---
---
ARRL Amateur News

February 16 th 1456 UTC

Solar activity increased over the last reporting week (February 8-14). Average daily sunspot number rose from 10.3 to 24, while average daily solar flux increased from 72.5 to 77.4. Geomagnetic indicators were quiet, with average planetary A index changin…

February 15 th 2130 UTC

The winning article for the February 2018 QST Cover Plaque award is "Live Trees Affect Antenna Performance" by Kai Siwiak, KE4PT, and Richard Quick, W4RQ. The QST Cover Plaque Award -- given to the author or authors of the most popular article in each iss…

---
Current Platte County Weather
Winds are North at 9.2 MPH (8 KT). The pressure is 1010.4 mb and the humidity is 92%. The wind chill is 22. Last Updated on Feb 20 2018, 3:53 am CST.
---
Training Resources
---
HF Radio Propagation

Solar Flux: 69 | Ap: 17 | Kp 0

No space weather storms were observed for the past 24 hours.

No space weather storms are predicted for the next 24 hours.