---
PCARG Regular Monthly Meeting
This Saturday, March 24 9 am
---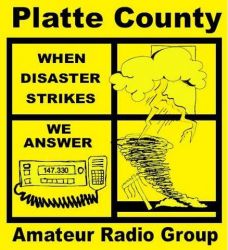 ---
Social Media
---
Signup for Group
Communication Notifications
---
Group Reminders: Meeting/
Event Notifications
Member or Friend?
Please choose Friend if unsure.
We will update records periodically.
---
We are a group of radio amateurs in and near
Platte County, MO who get together on a regular basis
for the purpose of fellowship, socially redeeming
activities, emergency communications training,
and just plain old fun.
---
Club Meeting:
Last Saturday of Month 9:00 am
Location: Northland Regional Ambulance District
1000 Platte Falls Road
Platte City, MO 64079
** Talk-in is on the 147.33 + Repeater
Club Voice NET:
2m Voice Net: Tuesdays 7:30 pm
NET Callsign: NR0AD
Operates on 147.33 + WA0QFJ Repeater
---
FSQCALL fldigi Learning Net:
Sundays 8:00 pm (Northland ARES)
Operates on 147.33 + Repeater
---
---
ARRL Amateur News

March 20 th 1739 UTC

Chris Janssen, DL1MGB, president of the World Radiosport Team Championship 2018 (WRTC 2018) Organizing Committee said this week that nearly all of the anticipated funds are in hand to mount the two-member Amateur Radio team competition in Germany this Jul…

March 20 th 1634 UTC

Amateur Radio volunteers with WX1BOXat the National Weather Service in Taunton, Massachusetts, and various ARES groups had their hands full during March, as Mother Nature's hat trick of nor'easters brought severe weather conditions and a lot of snow to th…

---
Current Platte County Weather
Winds are Southeast at 9.2 MPH (8 KT). The pressure is 1024.3 mb and the humidity is 70%. The wind chill is 35. Last Updated on Mar 22 2018, 5:53 am CDT.
---
Training Resources
---
HF Radio Propagation

Solar Flux: 69 | Ap: 4 | Kp 1

No space weather storms were observed for the past 24 hours.

Space weather for the next 24 hours is predicted to be minor. Geomagnetic storms reaching the G1 level are likely.