---
PCARG Annual Holiday Breakfast
Roxannes Cafe
1126 Branch Street
Platte City, MO.
Saturday, December 30  8 A

M

To RSVP, Click HERE
---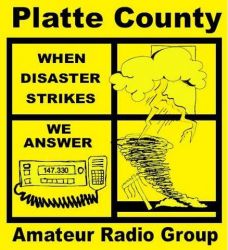 ---
Social Media
---
Signup for Group
Communication Notifications
---
Group Reminders: Meeting/
Event Notifications
Member or Friend?
Please choose Friend if unsure.
We will update records periodically.
---
We are a group of radio amateurs in and near
Platte County, MO who get together on a regular basis
for the purpose of fellowship, socially redeeming
activities, emergency communications training,
and just plain old fun.
---
Club Meeting:
Last Saturday of Month 9:00 am
Location: Northland Regional Ambulance District
1000 Platte Falls Road
Platte City, MO 64079
** Talk-in is on the 147.33 + Repeater
Club Voice NET:
2m Voice Net: Tuesdays 7:30 pm
NET Callsign: NR0AD
Operates on 147.33 + WA0QFJ Repeater
---
FSQCALL fldigi Learning Net:
Sundays 8:00 pm (Northland ARES)
Operates on 147.33 + Repeater
---
---
ARRL Amateur News

December 14 th 1654 UTC

Participants in CQ magazine's Worked All Zones (WAZ) award program will soon be able to use the Logbook of the World (LoTW) system of ARRL, the national association for Amateur Radio, to apply for the WAZ award and its endorsements, both ARRL and CQ annou…

December 14 th 1400 UTC

"Listener Mailbag" is the topic of the current (December 7) episode of the "ARRL The Doctor is In" podcast. Listen...and learn! More than a half-million downloads since its debut in April 2016 attest to the podcast's popularity.Sponsored by DX Engineering…

---
Current Platte County Weather
Winds are Northwest at 6.9 MPH (6 KT). The pressure is 1019.3 mb and the humidity is 60%. The wind chill is 33. Last Updated on Dec 14 2017, 11:53 am CST.
---
Training Resources
---
HF Radio Propagation

Solar Flux: 72 | Ap: 7 | Kp 0 frm 1

No space weather storms were observed for the past 24 hours.

No space weather storms are predicted for the next 24 hours.