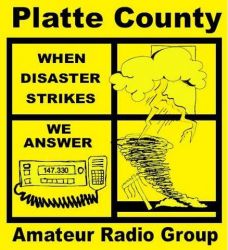 ---
Social Media
---
HF Band Conditions
fldigi/flmsg/flamp
FSQCall Program V0.24.6 older US Edition
We are a group of radio amateurs in and near
Platte County, MO who get together on a regular basis
for the purpose of fellowship, socially redeeming
activities, emergency communications training,
and just plain old fun.
---
Club Meeting:
Last Saturday of Month 9:00 am
Location: Northland Regional Ambulance District
1000 Platte Falls Road
Platte City, MO 64079
** Talk-in is on the 147.33 + Repeater
Tone 151.4
Club Voice NET:
2m Voice Net: Tuesdays 7:30 pm
NET Callsign: NR0AD
Operates on 147.33 + WA0QFJ Repeater
Tone 151.4
---
FSQCALL fldigi Learning Net:
Sundays 8:00 pm (Northland ARES)
Operates on 147.33 + Repeater
Tone 151.4
---
---
ARRL Amateur News

January 27 th 2023 UTC

Past ARRL Southeastern Division Director Harmon "Dale" Strieter, W4QM (ex-W4DQS), of Cocoa Beach, died on January 6. An ARRL Life Member, he was 92 and a founding member of the Maxim Society.Strieter was ARRL Southeastern Division Director from 1970 until…

January 27 th 2016 UTC

The University of Washington's HuskySat-1 3U CubeSat, launched November 2, 2019, is set to deploy on January 31 after the vehicle that carried it to the International Space Station undocks. HuskySat-1 has remained stowed aboard a Northrop Grumman Cygnus s…

January 27 th 1923 UTC

In a recent ceremony, two Winlink development team members were awarded the Military Department of Tennessee Adjutant General's Distinguished Patriot Medal.Steve Waterman, K4CJX, was awarded "for his distinguished patriotic service as the Winlink Network …

The 147.330+ repeater is the official Skywarn repeater for
Platte County and back up to the Northland ARES repeater
---
---
Training Resources
---
HF Radio Propagation

Solar Flux: 73 | Ap: 3 | Kp 1

No space weather storms were observed for the past 24 hours.

No space weather storms are predicted for the next 24 hours.