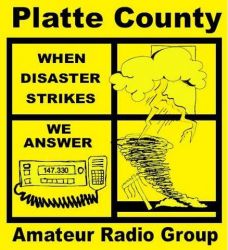 ---
Social Media
---
HF Band Conditions
fldigi/flmsg/flamp
FSQCall Program V0.24.6 older US Edition
We are a group of radio amateurs in and near
Platte County, MO who get together on a regular basis
for the purpose of fellowship, socially redeeming
activities, emergency communications training,
and just plain old fun.
---
Club Voice NET:
2m Voice Net: Tuesdays 7:30 pm
NET Callsign: NR0AD
Operates on 147.33 + WA0QFJ Repeater
Tone 151.4
Club Meeting:
Last Saturday of Month 9:00 am - 11:00 am
Location: (In Person) Northland Regional Ambulance District
1000 Platte Falls Road Platte City, MO 64079
** Talk-in is on the 147.33 + Repeater Tone 151.4
Location: (Zoom)
Contact: Steve KC0YSY or Groups.io for link
Meeting Dates
Apr 24 Club Picnic
Testing 9:30
Picnic 11:00 - 3:00

May 29
Meeting 9:00 - 11:00
Program: DMR
Dave (N0RL)

Jun 26-27 Field Day
Setup Friday (25th)
Testing 9:30
Field Day Starting 11am

Jul 31
Meeting 9:00 - 11:00
Program: NBEMS
Rick (K0KEX)

Aug 28
Testing 7:30
Meeting 9:00 - 11:00
Sep 25
Meeting 9:00 - 11:00
Oct 30
Testing 7:30
Meeting 9:00 - 11:00
Nov 27
Testing 7:30
Meeting 9:00 - 11:00
Dec 18 Breakfast
8:00 Location: TBD
---
FSQCALL fldigi Learning Net:
Sundays 8:00 pm (Northland ARES)
Operates on 147.33 + Repeater
Tone 151.4
---
---
ARRL Amateur News

April 13 th 1817 UTC

Radio Amateurs of Canada (RAC) has announced the "Get on the Air on World Amateur Radio Day" operating event. World Amateur Radio Day (WARD) is observed each year on April 18, to celebrate the formation of the International Amateur Radio Union (IARU) on A…

April 13 th 1748 UTC

Donald de Riggs, J88CD, on the Caribbean island of St. Vincent, says that on April 13, the 42nd anniversary of the 1979 eruption of the La Soufriere volcano, island residents were awakened to another column of volcanic ash creating a thick blanket, obscur…

April 13 th 1742 UTC

The Intrepid-DX Group has teamed with DXpeditioner Ken Opskar, LA7GIA, in its quest to activate Bouvet Island, the second most-wanted DXCC entity according to Club Log. The 3Y0J DXpedition is planned for January through February 2023. A dependency of Norw…

The 147.330+ repeater is the official Skywarn repeater for
Platte County and back up to the Northland ARES repeater
---
County Spotter Talks
Thursday February 25 2021
https://attendee.gotowebinar.com/rt/2595511958765109261
Severe Storm Spotters
Training Sessions will begin at 7 PM and last for approximately an hour.
ATTENDEES MUST REGISTER AHEAD OF TIME
---
Training Resources
---
HF Radio Propagation

Oops, it looks like you've entered an invalid feed address!