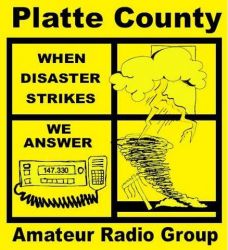 ---
Social Media
---
HF Band Conditions
fldigi/flmsg/flamp
FSQCall Program V0.24.6 older US Edition
We are a group of radio amateurs in and near
Platte County, MO who get together on a regular basis
for the purpose of fellowship, socially redeeming
activities, emergency communications training,
and just plain old fun.
---
Club Meeting:
Last Saturday of Month 9:00 am
Location: Northland Regional Ambulance District
1000 Platte Falls Road
Platte City, MO 64079
** Talk-in is on the 147.33 + Repeater
Club Voice NET:
2m Voice Net: Tuesdays 7:30 pm
NET Callsign: NR0AD
Operates on 147.33 + WA0QFJ Repeater
---
FSQCALL fldigi Learning Net:
Sundays 8:00 pm (Northland ARES)
Operates on 147.33 + Repeater
---
---
ARRL Amateur News

June 21 st 1712 UTC

Listen to the new episode of ARRL Audio News on your iOS or Android podcast app, or online at http://www.blubrry.com/arrlaudionews/. Audio News is also retransmitted on a number of FM repeaters. Click here and then scroll down to see the list. 

June 21 st 1407 UTC

The quiet sun continues, with still another week passing with zero sunspots. For 33 days in a row, no sunspot activity, as of Thursday, June 20. So far this year 62% of the days are without sunspots, really the same as all of last year, which was 61%.Aver…

June 20 th 2053 UTC

The Planetary Society's citizen-funded LightSail 2 solar-propelled spacecraft is set to launch on June 22 on board a SpaceX Falcon Heavy. It will attempt the first controlled solar sail flight in Earth orbit. LightSail 1 successfully completed its test fl…

The 147.330+ repeater is the official Skywarn repeater for
Platte County and back up to the Northland ARES repeater
---
---
Training Resources
---
HF Radio Propagation

Solar Flux: 68 | Ap: 5 | Kp 1 frm 0

No space weather storms were observed for the past 24 hours.

No space weather storms are predicted for the next 24 hours.