---
PCARG OPEN HOUSE
April 28, 2018
11 to 3
VE Testing 9:30
---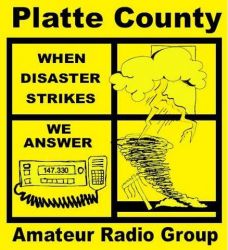 ---
Social Media
---
Signup for Group
Communication Notifications
---
Group Reminders: Meeting/
Event Notifications
Member or Friend?
Please choose Friend if unsure.
We will update records periodically.
---
We are a group of radio amateurs in and near
Platte County, MO who get together on a regular basis
for the purpose of fellowship, socially redeeming
activities, emergency communications training,
and just plain old fun.
---
Club Meeting:
Last Saturday of Month 9:00 am
Location: Northland Regional Ambulance District
1000 Platte Falls Road
Platte City, MO 64079
** Talk-in is on the 147.33 + Repeater
Club Voice NET:
2m Voice Net: Tuesdays 7:30 pm
NET Callsign: NR0AD
Operates on 147.33 + WA0QFJ Repeater
---
FSQCALL fldigi Learning Net:
Sundays 8:00 pm (Northland ARES)
Operates on 147.33 + Repeater
---
---
ARRL Amateur News

April 19 th 1800 UTC

The winning article for the April 2018 QST Cover Plaque award is "An Ultra Simple 2-Meter Antenna" by John Portune, W6NBC. The QST Cover Plaque Award -- given to the author or authors of the most popular article in each issue -- is determined by a vote of…

April 19 th 1728 UTC

Special Canadian call sign VB18FIFA will be among those active around the world from June 1 to July 15 for a World Cup 2018 football Amateur Radio "marathon." The event will be held during the 2018 FIFA World Cup in Russia. Russia's IARU member-society SR…

---
Current Platte County Weather
Winds are Southeast at 6.9 MPH (6 KT). The pressure is 1029.8 mb and the humidity is 50%. The wind chill is 42. Last Updated on Apr 19 2018, 10:53 pm CDT.
---
Training Resources
---
HF Radio Propagation

Solar Flux: 71 | Ap: 3 | Kp 4

No space weather storms were observed for the past 24 hours.

No space weather storms are predicted for the next 24 hours.