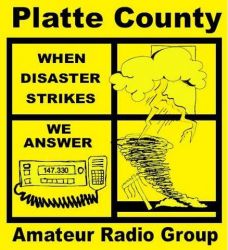 ---
Social Media
---
HF Band Conditions
fldigi/flmsg/flamp
FSQCall Program V0.24.6 older US Edition
We are a group of radio amateurs in and near
Platte County, MO who get together on a regular basis
for the purpose of fellowship, socially redeeming
activities, emergency communications training,
and just plain old fun.
---
Club Meeting:
Last Saturday of Month 9:00 am
Location: Northland Regional Ambulance District
1000 Platte Falls Road
Platte City, MO 64079
** Talk-in is on the 147.33 + Repeater
Club Voice NET:
2m Voice Net: Tuesdays 7:30 pm
NET Callsign: NR0AD
Operates on 147.33 + WA0QFJ Repeater
---
FSQCALL fldigi Learning Net:
Sundays 8:00 pm (Northland ARES)
Operates on 147.33 + Repeater
---
---
ARRL Amateur News

July 23 rd 1838 UTC

ARRL has announced the release of its 2018 Annual Report to members. The 2018 Annual Report was created by the ARRL editorial staff under the direction of QST Managing Editor, Becky Schoenfeld, W1BXY. In his message to members, ARRL President Rick Roderic…

July 22 nd 2134 UTC

The IEEE Microwave Theory and Techniques Society (MTT-S) has announced the MTT-Sat Challenge for groups of students developing RF hardware for CubeSat applications. The MTT-Sat Challenge is a worldwide competition for teams of undergraduate and graduate s…

The 147.330+ repeater is the official Skywarn repeater for
Platte County and back up to the Northland ARES repeater
---
---
Training Resources
---
HF Radio Propagation

Solar Flux: 67 | Ap: 6 | Kp 2

No space weather storms were observed for the past 24 hours.

No space weather storms are predicted for the next 24 hours.