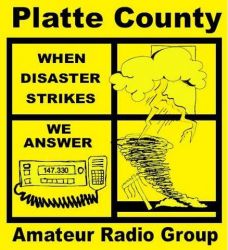 ---
Social Media
---
HF Band Conditions
fldigi/flmsg/flamp
FSQCall Program V0.24.6 older US Edition
We are a group of radio amateurs in and near
Platte County, MO who get together on a regular basis
for the purpose of fellowship, socially redeeming
activities, emergency communications training,
and just plain old fun.
---
Club Meeting:
Last Saturday of Month 9:00 am
Location: Northland Regional Ambulance District
1000 Platte Falls Road
Platte City, MO 64079
** Talk-in is on the 147.33 + Repeater
Tone 151.4
Club Voice NET:
2m Voice Net: Tuesdays 7:30 pm
NET Callsign: NR0AD
Operates on 147.33 + WA0QFJ Repeater
Tone 151.4
---
FSQCALL fldigi Learning Net:
Sundays 8:00 pm (Northland ARES)
Operates on 147.33 + Repeater
Tone 151.4
---
---
ARRL Amateur News

September 18 th 1318 UTC

Tad Cook, K7RA, Seattle, reports: Lots of news lately about the solar cycle, but no sunspots. Today, September 18, is the 29th consecutive day with no sunspots.The news this week was about the Solar Cycle 24 minimum, announced recently as having occurred …

The 147.330+ repeater is the official Skywarn repeater for
Platte County and back up to the Northland ARES repeater
---
---
Training Resources
---
HF Radio Propagation

Solar Flux: 70 | Ap: 4 | Kp 1

No space weather storms were observed for the past 24 hours.

No space weather storms are predicted for the next 24 hours.