---


Pictures from PCARG Field Day 2017 in Photo Gallery
NRAD Platte City, MO
---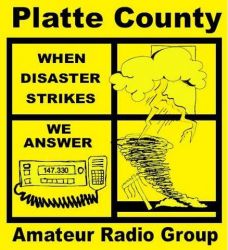 ---
Social Media
---
Signup for Group
Communication Notifications
---
Group Reminders: Meeting/
Event Notifications
Member or Friend?
Please choose Friend if unsure.
We will update records periodically.
---
We are a group of radio amateurs in and near
Platte County, MO who get together on a regular basis
for the purpose of fellowship, socially redeeming
activities, emergency communications training,
and just plain old fun.
---
Club Meeting:
Last Saturday of Month 9:00 am
Location: Northland Regional Ambulance District
1000 Platte Falls Road
Platte City, MO 64079
** Talk-in is on the 147.33 + Repeater
Club Voice NET:
2m Voice Net: Tuesdays 7:30 pm
NET Callsign: NR0AD
Operates on 147.33 + WA0QFJ Repeater
---
FSQCALL fldigi Learning Net:
Sundays 8:00 pm (Northland ARES)
Operates on 147.33 + Repeater
---
---
ARRL Amateur News

June 27 th 1657 UTC

ARRL continues to solicit paper logs of prominent DXpeditions that took place predominantly in the 1950s, 1960s, and 1970s, for inclusion in The DX Log Archive Endowed by JA1BK. The DX Log Archive program was created, thanks to an endowment established by…

June 27 th 1614 UTC

In a draft Report and Order (ET Docket No. 15-26) to be considered at its July 13 open meeting, the FCC is proposing to lift a nearly 2-decade-old suspension of Amateur Radio access to 76-77 GHz, giving the Amateur and Amateur-Satellite services access to…

---
Current Platte County Weather
Winds are South at 12.7 MPH (11 KT). The pressure is 1012.7 mb and the humidity is 67%. Last Updated on Jun 27 2017, 5:53 pm CDT.
---
Training Resources
---
HF Radio Propagation

Solar Flux: 74 | Ap: 5 | Kp 0

No space weather storms were observed for the past 24 hours.

No space weather storms are predicted for the next 24 hours.