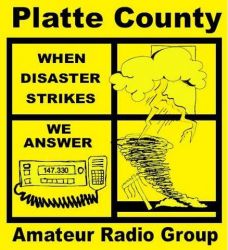 ---
Social Media
---
Signup for Group
Communication Notifications
---
Group Reminders: Meeting/
Event Notifications
Member or Friend?
Please choose Friend if unsure.
We will update records periodically.
---
We are a group of radio amateurs in and near
Platte County, MO who get together on a regular basis
for the purpose of fellowship, socially redeeming
activities, emergency communications training,
and just plain old fun.
---
Club Meeting:
Last Saturday of Month 9:00 am
Location: Northland Regional Ambulance District
1000 Platte Falls Road
Platte City, MO 64079
** Talk-in is on the 147.33 + Repeater
Club Voice NET:
2m Voice Net: Tuesdays 7:30 pm
NET Callsign: NR0AD
Operates on 147.33 + WA0QFJ Repeater
---
FSQCALL fldigi Learning Net:
Sundays 8:00 pm (Northland ARES)
Operates on 147.33 + Repeater
---
---
ARRL Amateur News

August 22 nd 2052 UTC

Hurricane Watch Net (HWN) Manager Bobby Graves, KB5HAV, said today the net is not letting down its guard with respect to Tropical Cyclone Harvey, the remnants of which remain in the Gulf of Mexico. "As we begin to move into the heart of Hurricane Season, …

---
Current Platte County Weather
Winds are North at 3.5 MPH (3 KT). The pressure is 1020.4 mb and the humidity is 84%. Last Updated on Aug 23 2017, 5:53 am CDT.
---
Training Resources
---
HF Radio Propagation

Solar Flux: 90 | Ap: 22 | Kp 4

No space weather storms were observed for the past 24 hours.

No space weather storms are predicted for the next 24 hours.