---
Local and regional DMR repeater information under Repeaters tab
---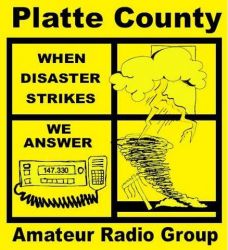 ---
Social Media
---
Signup for Group
Communication Notifications
---
Group Reminders: Meeting/
Event Notifications
Member or Friend?
Please choose Friend if unsure.
We will update records periodically.
---
We are a group of radio amateurs in and near
Platte County, MO who get together on a regular basis
for the purpose of fellowship, socially redeeming
activities, emergency communications training,
and just plain old fun.
---
Club Meeting:
Last Saturday of Month 9:00 am
Location: Northland Regional Ambulance District
1000 Platte Falls Road
Platte City, MO 64079
** Talk-in is on the 147.33 + Repeater
Club Voice NET:
2m Voice Net: Tuesdays 7:30 pm
NET Callsign: NR0AD
Operates on 147.33 + WA0QFJ Repeater
---
FSQCALL fldigi Learning Net:
Sundays 8:00 pm (Northland ARES)
Operates on 147.33 + Repeater
---
---
ARRL Amateur News

October 17 th 2151 UTC

The US Senate today confirmed ARRL member David Trachtenberg, N4WWL, of Burke, Virginia, as the next Principal Deputy Under Secretary of Defense for Policy. Trachtenberg, 60, is the president and CEO of Shortwaver Consulting LLC, a national security consu…

October 17 th 2010 UTC

Amateur Radio's two newest bands came to life on Friday the 13th. Both 630 meters (472-479 kHz) and 2200 meters (135.7-137.8 kHz) bands now are available to radio amateurs who have notified the Utilities Technology Council (UTC) of their intention to oper…

October 17 th 1300 UTC

The Northern California DX Foundation (NCDXF) has announced a major contribution to the Baker Island DXpedition planned for June 2018 by the Dateline DX Association. Baker-Howland is #4 on the Club Log's DXCC Most Wanted list, and likely will move up by o…

---
Current Platte County Weather
Winds are South at 9.2 MPH (8 KT). The pressure is 1018.2 mb and the humidity is 67%. The wind chill is 57. Last Updated on Oct 17 2017, 6:53 pm CDT.
---
Training Resources
---
HF Radio Propagation

Solar Flux: 70 | Ap: 6 | Kp 1

No space weather storms were observed for the past 24 hours.

No space weather storms are predicted for the next 24 hours.