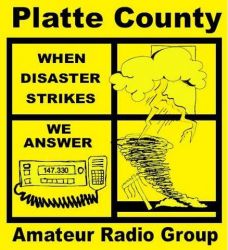 ---
Social Media
---
Signup for Group
Communication Notifications
---
Group Reminders: Meeting/
Event Notifications
Member or Friend?
Please choose Friend if unsure.
We will update records periodically.
---
We are a group of radio amateurs in and near
Platte County, MO who get together on a regular basis
for the purpose of fellowship, socially redeeming
activities, emergency communications training,
and just plain old fun.
---
Club Meeting:
Last Saturday of Month 9:00 am
Location: Northland Regional Ambulance District
1000 Platte Falls Road
Platte City, MO 64079
** Talk-in is on the 147.33 + Repeater
Club Voice NET:
2m Voice Net: Tuesdays 7:30 pm
NET Callsign: NR0AD
Operates on 147.33 + WA0QFJ Repeater
---
FSQCALL fldigi Learning Net:
Sundays 8:00 pm (Northland ARES)
Operates on 147.33 + Repeater
---
---
ARRL Amateur News

May 25 th 1800 UTC

The American Red Cross has honored ARRL Sacramento Valley Section Emergency Coordinator Greg Kruckewitt, KG6SJT, with an Award for Excellence in Service to the ARC's Gold Country Region. The award  recognizes Kruckewitt's "outstanding contributions for yo…

May 25 th 1635 UTC

The FCC has again used a consent decree to resolve an enforcement matter. The FCC Enforcement Bureau recently concluded a radio interference investigation with "a negotiated settlement" and $90,000 civil penalty. The case against AFX Inc. involved the mar…

May 25 th 1600 UTC

ARRL Headquarters will be closed for the Memorial Day holiday on Monday, May 29. There will be no W1AW code practice or bulletin transmissions on that day. ARRL Headquarters will reopen for business on Tuesday, May 30, at 8 AM EDT. Have a safe and enjoyab…

---
Current Platte County Weather
Winds are Southeast at 9.2 MPH (8 KT). The pressure is 1004.5 mb and the humidity is 68%. Last Updated on May 25 2017, 11:53 pm CDT.
---
Training Resources
---
HF Radio Propagation

Solar Flux: 76 | Ap: 4 | Kp 1

No space weather storms were observed for the past 24 hours.

No space weather storms are predicted for the next 24 hours.