---
PCARG Regular Monthly Meeting
This Saturday, March 24 9 am
---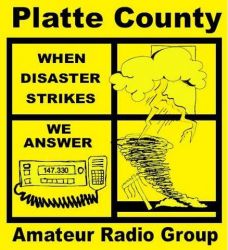 ---
Social Media
---
Signup for Group
Communication Notifications
---
Group Reminders: Meeting/
Event Notifications
Member or Friend?
Please choose Friend if unsure.
We will update records periodically.
---
We are a group of radio amateurs in and near
Platte County, MO who get together on a regular basis
for the purpose of fellowship, socially redeeming
activities, emergency communications training,
and just plain old fun.
---
Club Meeting:
Last Saturday of Month 9:00 am
Location: Northland Regional Ambulance District
1000 Platte Falls Road
Platte City, MO 64079
** Talk-in is on the 147.33 + Repeater
Club Voice NET:
2m Voice Net: Tuesdays 7:30 pm
NET Callsign: NR0AD
Operates on 147.33 + WA0QFJ Repeater
---
FSQCALL fldigi Learning Net:
Sundays 8:00 pm (Northland ARES)
Operates on 147.33 + Repeater
---
---
ARRL Amateur News

March 16 th 2134 UTC

The deadline is April 30 for US schools, museums, science centers, and community youth organizations (working individually or together) to submit proposals to host an Amateur Radio on the International Space Station (ARISS) contact with an orbiting crew m…

March 16 th 1943 UTC

The results of the 2017 ARRL November Sweepstakes CW are now posted on the ARRL website. Go to the Contest Results Articles page, and scroll down. Click on "2017 Contest Results" and then to "November Sweepstakes (CW)." The full results database is availa…

March 16 th 1806 UTC

Increase your station's receive performance with new book Receiving Antennas for the Radio Amateur by ARRL author Eric P. Nichols, KL7AJ. Although the fundamental characteristics of antennas apply to both transmission and reception, the requirements and p…

---
Current Platte County Weather
Winds are from the Northeast at 21.9 gusting to 27.6 MPH (19 gusting to 24 KT). The pressure is 1004.9 mb and the humidity is 68%. The wind chill is 41. Last Updated on Mar 19 2018, 2:53 pm CDT.
---
Training Resources
---
HF Radio Propagation

Solar Flux: 69 | Ap: 25 | Kp 2

Space weather for the past 24 hours has been moderate. Geomagnetic storms reaching the G2 level occurred.

No space weather storms are predicted for the next 24 hours.